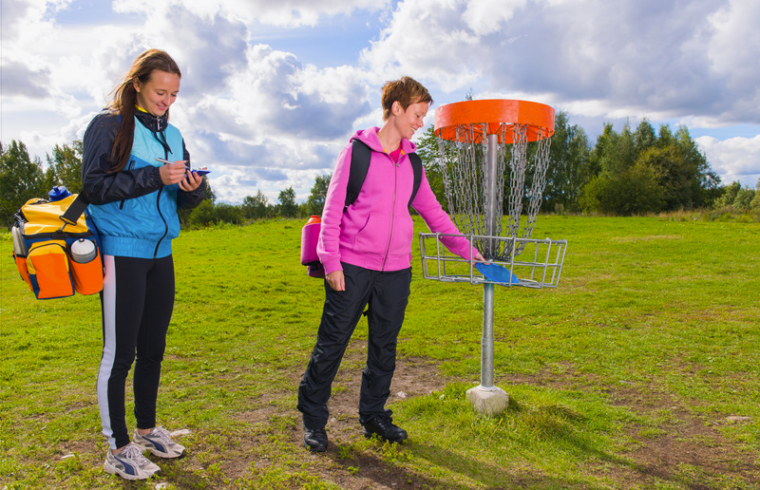 Disc Golf Courses Near Me
Golf is an extremely popular sport, giving way to numerous derivatives like disc golf. The sport along with disc golf and foot golf have many courses devoted to them around the world. Thus, the games are a favorite in various countries.
Some people call it frisbee golf, but I like to call it disc golf.
Disc golf is probably the most common derivative of golf, in addition to mini golf. Hence, we'll be discussing some of the best disc golf courses you can find. So keep reading, if you're interested.
1. DeLaveaga Park- Santa Cruz
Unlike the other courses on this list, the DeLaveaga park consists of rocky terrain. This makes playing disc golf quite challenging. It is best suited for more experienced players. Not only are the rocky slopes tough, but there is an abundance of trees as well.
Along with these, most of the holes are elevated. Thus, the course really tests your might as there are baskets even on the slope of hills.
That being said, it is quite scenic. The final hole in the course, which is the 27th, is placed next to the ocean, on top of a cliff. Hence it is called "the top of the world shot".
If you're looking to visit, be aware that the park is extremely crowded as many people flock there just to experience the 27th hole.
If you want to visit, its location is:
DeLaveaga Park, Santa Cruz, CA, 95060
2. Oak Park- Wichita
From the many golf courses on the list, the Oak Park course is known to be one of the most serene. Because of this, it's the perfect place to spend your evenings while you enjoy a game of disc golf. It is also situated beside a river. In fact, most people come here just to take pictures.
As the course is in the park, you have a large area to play in. The first 5 holes are in an isolated section, away from the rest of the park. If you keep moving, you'll find the rest of the holes scattered across the vicinity.
You can play up to 18 holes in its 5,322-foot space. The finishing hole is placed alongside a pond, giving you a great experience as you finish the game.
So, if you want to play disc golf along the Arkansas river at the most popular course in Wichita, you know where to go.
Its location is:
3. Pier Park- Portland
You may think having a disc course in Oregan is impossible, but you'd be mistaken. Although the state is known to be extremely windy, Pier Park is full of trees, and blocks out most of the wind. As you can imagine, this makes the course tough to play on as you have to deal with the conditions and the obstruction of trees as well.
The 18 holes are scattered throughout the park, letting you enjoy the lush scenery as you journey across. If you're an experienced player, you'll enjoy your time here. Also, most of the baskets are elevated at quite a height.
Moreover, the majority of the shots at the pier are technical. This is because the distance between you and the holes are huge. Thus, you'll have a lot of challenge. If you're a beginner and want to improve your game, Pier Park is the perfect place to go as it really tests your skills.
If you're thinking about visiting, it's located in:
4. Carey Park – Hutchinson
Similar to Oak Park, Carey Park is quite scenic. It has a lot of trees, making play here quite tough. Hence, you have to be considerably good at the game to deal with the countless obstructions.
That being said, it does not have as many bushes and trees as the Oak park does, making it easier to play on.
If you're the type of player who enjoys good scenery, there is a pond located in the park. It is a part of the course as you encounter it at hole 4. The course also has many features that make gameplay quite fun.
For example, you will experience sand traps mid-game. If your disc falls into one of these, you have to throw it upside down to the next hole. Sand traps are a common feature in regular golf, making it a nice touch to have on the Carey Park course.
Not just this, but elevated baskets are present too. It tests your skill, challenging you and your friends. Unfortunately, the elevated basket isn't present regularly on the course, just on hole 2.
If you want to visit this 5894-foot long course, it is in:
Emerson Loop (SE of ball golf course), Hutchinson
5. Airport Park – Concordia
Out of all the courses on this list, Airport Park is probably the newest one. It was built to be a disc golf course for beginner and intermediate players to enjoy. Because of this, you won't see many trees or bushes. Instead, it is fairly open.
With that being said, there are certain patches in the park that are quite covered up, making it more challenging for beginners.
Unfortunately, you won't get to enjoy too much scenery as most of the park is open space. Thus, you aren't offered the same experience as with Oak or DeLaveaga Park.
As mentioned, certain parts of the course are surrounded by greenery. This is the case for holes 3 and 4.
Hole 7 can be quite tricky as well. However, it's not something a beginner can't handle. It just takes extra determination to maneuver through. This is because the 7th hole in the course is elevated, but it's not as high as those in the other parks.
If you're interested, it's located in:
Airport Park Drive, Concordia
Conclusion
If you're an avid disc golfer, you have many locations to choose to play it in. There are many newer locations coming up as well, due to the popularity of the sport. This isn't just true just of disc golf (or frisbee golf) but of other golf games too.
As you can see, the mentioned courses are some of the best. So, have fun experiencing them.