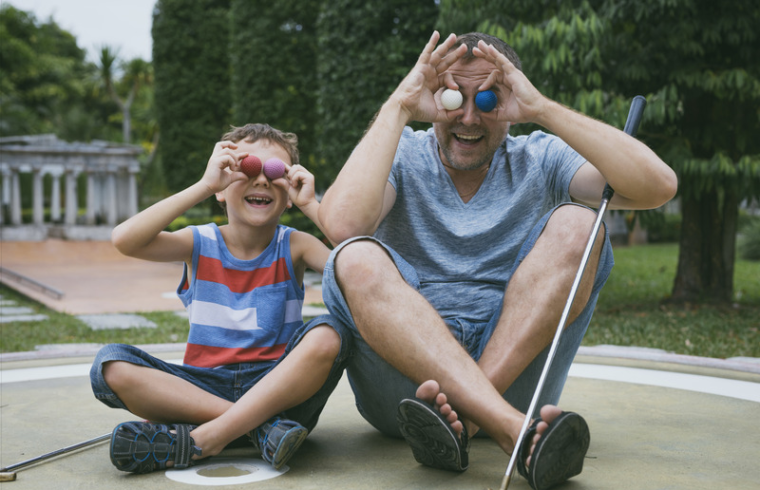 Mini Golf Courses Near Me
If you're an avid golfer, you probably love playing mini golf (also called miniature golf). Hence, you'd want to experience the best miniature golf courses near you.
To do this, you need a list of the best of the best in each state. Thankfully, we've provided just that below.
Related: Disc Golf Near Me
1. Adventure Land Theme Park – Alabama
The course is decked out in African motifs, giving the illusion that you're on a safari in a faraway land. These along with the weather and scenery of Alabama really makes the park feel like you're on an exotic adventure.
2, Putters Wild – Alaska
To make each hole exciting, the course is lit with neon lights, giving a futuristic feel as you play. Along with this, there are many props, some of which you even need 3d glasses to experience.
3. Cracker Jax – Arizona
Cracker Jax isn't just a golf course. It is located inside a gaming facility, giving you access to all sorts of fun activities. If you ever get bored, you can always opt to play laser tag or go bowling as they're minutes away.
4. Big Rock Mini Golf – Arkansas
If you love nature and playing golf, the big rock mini golf course is the place to be. It is completely surrounded by the lush outdoors, with forests towering over the course.
In terms of the course, it is quite spacious and well maintained, having many water features and props. Although not as great as the others on the list, its main attraction is its proximity to the outdoors.
5. Urban Putt – California
Urban putt is truly an urban location. Similar to putters wild, it provides a unique indoor experience as you play minigolf. This is because the vicinity is full of contemporary art pieces. So, the holes are intertwined with the art, giving way to an interactive experience.
6. Colorado Journey – Colorado
The park uses Colorado as the theme for the park. It is scattered with different landmarks recreated for the space.
7. Matterhorn – Connecticut
With the Matterhorn golf course, you'll be taken on a trip around the world. This is because the course has a European theme, especially Swiss. Thus, you'll be playing in the Swiss alps as you enjoy a game of mini-golf.
8. Golf Down Under – Delaware
Similar to the Matterhorn course, you'll enter a foreign location if you decide to play in this park. As you can guess, it is Australian-themed. So, get ready for a journey down under.
9. Disney World Fantasia Gardens – Florida
The course is based on the fantasia movie, giving you an immersive experience as you play. Many say it is a dream come true as it encompasses many motifs from the film and the Disney brand, making your childhood dreams come true.
10. Skyline Park – Georgia
Unlike most parks on this list, the skyline park course is not outdoors. It is situated on a rooftop. Thus, you have a great view of the city as you enjoy a peaceful game of mini-golf.
11. Anaina Hou Mini Golf and Gardens – Hawaii
The course encompasses everything that's great about Hawaii. It uses the tropical location to its advantage as you're surrounded by lush Hawaiian scenery. Thus, you'll feel at zen here.
12. Wahooz Family Fun Zone – Idaho
Families flock here not for the golf course, but for the water park. Along with the course and the waterpark, there are many fun activites you can do indoors, similar to the Cracker Jax in Arizona.
13. Par-King Skill Golf – Illinois
The Par-King course is known to be one of the most elaborate courses in the country. So, if you're an experienced player that loves mini-golf, you know where to go.
14. Rustic Driving Range and Miniature Golf Inc – Indiana
If you're truly a fan of nature, you'll love this course. It is not only surrounded by greenery, but it is also designed using all-natural materials. The well-maintained lawns are another bonus.
15. Lost Island Adventure Golf – Iowa
The lost island golf course continues the theme of a faraway adventure land. Here, you'll see water features, skulls and prop animals to amplify the feeling of being on a desert isle.
16. Howl in One – Kansas
The course is indoors, and full of whimsical props. If you're visiting the howl in one you won't be on your own, as many Kansas residents flock here.
17. Malibu Jack's – Kentucky
Malibu Jack's is one of the many golf courses you would find in an arcade. Thus, you'll be surrounded by all sorts of great entertainment if you visit this course.
18. City Putt – Louisiana
The courses makes use of its state as the theme. Moreover, it has been rated by many as the best course in the whole state, so you're sure to have a satisfying experience.
19. Schooner Miniature Golf – Maine
If you're looking for a fun day out in Maine, be sure to visit the schooner golf course. It is right by the beach, letting you experience the sea as well.
20. Old Pro Golf – Maryland
Maryland is known as the mini-golf capital of the world. Hence, its best course, old pro golf, does not disappoint.
21. Crystal Caves – Massachusetts
As the name suggests, you're surrounded by scenery that makes you feel like you're in a crystal cave. This is not just great for adults but kids will love it as well. There are also ice cream stands for the children.
22. Royal Oak Golf Center – Michigan
The Royal Oak course, though fit for beginners, is mainly used by experienced players. So, if you're well versed in the game and are in Michigan, you know where to go.
23. Can Can Wonderland – Minnesota
Here, you'll truly feel like you're in a wonderland. The course is full of whimsical art and props providing this illusion. Thus, it's great for kids.
24. Lava Links – Mississippi
The Lava Links course encompasses an exotic feel due to its giant volcano prop. This is what most people associate the park with, and it has become an attraction in the state.
25. Bigfoot Adventure Golf – Missouri
Bigfoot adventure golf is a kid's dream come true. It has everything you can think of, from a fully-fledged theme park to a great mini-golf course.
26. Amazing Fun Center – Montana
The Amazing Fun Center truly lives up to its name. You have many activities at your disposal if you choose to play here.
27. Prehistoric Putt – Nebraska
The course is dinosaur-themed and full of many realistic-looking dinos. If you're a kid, you'll feel like you just stepped into prehistoric times. The many features add to this.
28. KISS by Monster Mini Golf – Nevada
The golf course is every Kiss fan's dream come to life. It uses the band's logo around each hole. This is done spectacularly as you'd readily say the features are a work of art.
29. Mel's Funway Park – New Hampshire
This is New Hampshire's premium mini-golf course. Similar to many of the courses on the list, it is in an arcade.
30. Congo Falls – New Jersey
The park, designed to resemble an adventure escape, is made to look like the jungles of the Congo. So get ready for a great adventure. What's best is that most of the course is indoors.
31. Hinkle Family Fun Center – New Mexico
The course is perfect if you're a beginner. Moreover, it is known to be very peaceful which is perfect if you want to test your skill out without a crowd.
32. Pier 25 Mini Golf – New York
Pier 25 is known to be one of the cheaper courses in the country, which is strange considering its location. If you come here, you'll find a relatively simple course, but be able to enjoy a stunning view of New York City as a backdrop.
33. Professor Hacker's Lost Treasure Miniature Golf – North Carolina
The course uses diamond mining as its motif. Thus, being a miner at work is how you will feel. In fact, you can ride to holes on a minecart.
34. The Putt District – North Dakota
The putt district utilizes glow in the dark golf, giving you extremely unique gameplay.
35. Alien Vacation – Ohio
The course is a 3D adventure, using aliens residing in the town as its theme. You'll see them pop up as you play.
36. HeyDay Entertainment – Oklahoma
If you want to play mini-golf while experiencing a party, do come here. The course plays music, and even has a bar in the front. The design also encourages the party atmosphere.
37. Glowing Greens – Oregon
If you like spooky surroundings, you'll enjoy this course. It uses a black-lit atmosphere to amplify a spooky pirate theme.
38. Village Greens Golf, Inc – Pennsylvania
As its name suggests, the course is very green. In fact, out of all the options on this list, you'll be truly at one with nature here.
39. Adventureland – Rhode Island
If you want a fun experience, don't miss this one. Not only is it a theme park, but some of the rides are a part of the mini-golf course. For example, the bumper cars!
40. Hawaiian Rumble Mini Golf – South Carolina
You'll be transported to the tropics of Hawaii in this course. So, if you want to experience the island paradise at home, you know where to go.
41. Putz n Glo Black Light Miniature Golf – South Dakota
Putz n Glo is South Dakota's best mini-golf course. If you want to experience the trend of blacklight mini-golf, this is the perfect place to go to.
42. Ripley's Old MacDonald's Farm Mini-Golf – Tennessee
The course is perfect for children as it is based on the old MacDonald song. It is also whimsical, with features from the nursery rhyme appearing throughout.
43. Embassy Golf – Texas
Embassy golf is the epitome of a well-designed golf course. It takes everything great about a classic golf course and puts it into a mini one.
44. Willows Golf Park – Utah
Utah is known to be picturesque. So, visit willows park and experience the beautiful scenery while you play mini-golf. In fact, you can even try your hand at hiking after you're done.
45. Lots-O-Balls Mini Golf – Vermont
Lots-O-Balls is arguably the most well-maintained course on this list. If you're the type of golfer that likes an immaculate playing field, you know where to go.
46. Perils of the Lost Jungle – Virginia
Another adventure-themed golf course, this one uses a jungle escape.
47. Parkland Putters – Washington
The parkland putters is a well-manicured mini-golf course. However, what makes it so great is its variety of shots. From all the options on the list, it provides holes for every kind of player. Thus, the entire family can enjoy it here.
48. Coal Country Mini Golf – West Virginia
This course makes use of its town's background as the theme. Coal Country Mini Golf is located in the country's largest coal-producing town. Thus, the course is littered with mining features. You'd be amazed that it even has actual mining equipment to use.
49. Vitense Golf Land – Wisconsin
It truly is a golf lover's paradise. It has numerous landmarks dedicated to the sport, even fun activities outside of mini-golf.
50. Mini Golf at Snow King Mountain – Wyoming
Unfortunately, the state doesn't have many mini-golf courses. Hence, snow king mountain takes the crown. Here, you will have a wonderful outdoor experience, thanks to the well-kept lawns.
Mini Golf Courses in Every State
If you follow the above suggestions, you'll find the best mini golf courses near you.
To sum it up-what defines how great a course is:
Complexity of features
Difficulty
Pricing
Non golf-related amenities
Get ready for our next articles titled glow golf near me, putt putt near me and pay pay golf near me.