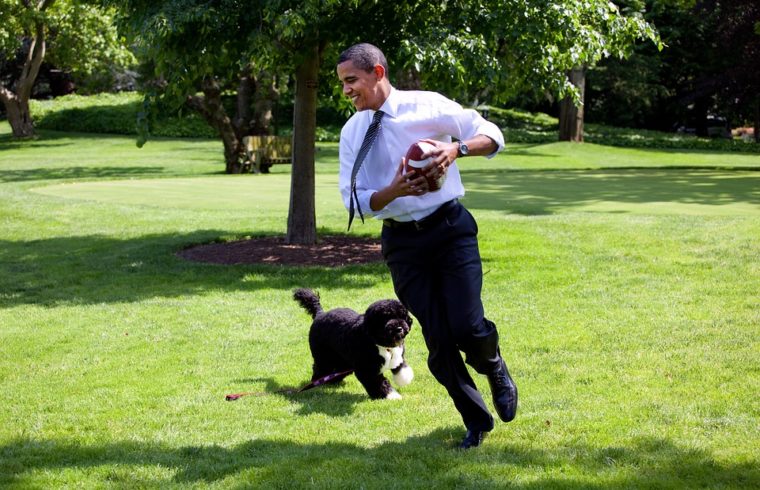 How Many Times Did Obama Play Golf?
Golf is practically a presidential pastime, with numerous presidents enjoying the sport during their terms as Commander-in-Chief. Barack Obama was no different, which is why so many people ask the question, how many times did Obama play golf?
Well, there is good news for interested parties. Numerous agencies and websites actually kept track of just how many rounds of golf the 44th president played. Below, you can take a closer look at the numbers and determine just how often he hit the golf course:
How Many Times Did Obama Play Golf?
Obama was in office for eight years. During his tenor as president, he played a total of 333 rounds of golf. Thus, when calculated, it is estimated that the former POTUS spend around 1,665 hours on the green.
When you do the math, this constitutes about 3 percent of his total presidency. Then, when you break it down by year, it adds up to around 41 rounds each year. This number puts the previous president in the category of an "avid" golfer. This title is reserved for individuals who play more than 25 rounds of golf a year.
How Much Did He Play Each Term?
As you are aware, Barack Obama served two years as POTUS. During his first term as Commander-in-Chief, Obama played golf 113 times. However, in his first hundred days in the White House, he went to the golf course just once. By the second term, Obama's visits to the green had become more frequent. In his second term, he racked up 322 rounds over a four year period.
How Good Is Obama's Game?
So, it is clear that the 44th president has spent a fair amount of time on the course, he does not only like playing the piano. The question remains: has it paid off? Just how good is Obama at golf?
Well, while he may not be the worst golfer in presidential history, he certainly isn't the best. Most experts estimate that his handicap is in the teens – somewhere around 13. To make matters worse, he isn't the most consistent of players.
At the same time, it does appear that he has improved since he first took office. Back in 2008, it was determined that his handicap stood at around 17. By his own admission, the ex-president has said that his sand game is "terrible".
Making Comparisons with Other Presidents
As mentioned, golfing is rather a common denominator for quite a number of US presidents. In total, 19 of the 45 presidents were enthusiastic golfers. So, when compared to them, how does the ex-president Obama hold up?
Well, the president who held the record for the number of most golf games played during his presidency would be Woodrow Wilson. According to the statistics, he managed to play an astounding number of 1200 rounds while he was president.
So, what about Obama's predecessor George W. Bush – who played the most number of rounds here? Well, in this instance, Obama racks up a higher number. Bush played just 24 rounds during his stint as president. This was because he stopped playing the game in order to avoid sending the wrong message to troops fighting in Iraq and Afghanistan.
Now, let's take a look at Obama's successor, Donald Trump. Now, while Trump may still be short of Wilson's record, the 45th president is doing a fine job of being a competitor. Being only half way through his first term, Trump has played 225 times since he has been elected.
Where Has Obama Played?
The other interesting question is where did Obama play most of his games? After all, when you are the president of the United States, your options are fairly limited due to security concerns. What's more, plans have to be made well in advance.
Well, this is probably the reason that Obama did much of his golfing on military bases. According to the statistics, up to 74 percent of his games took place at military bases such as Andrews Air Force Base and Fort Belvoir. The rest took place at public and private golf courses.
Who Has He Played With?
Considering that one of his jobs was to entertain foreign dignitaries, it makes sense that Obama played a number of rounds with various politicians. This includes the then New Zealand Prime Minister John Key. At one point, Obama even played a round with a president who came before him – Bill Clinton.
However, what has really stood out about Obama's golfing buddies are the celebrities. The then president got a chance to play with athletes and entertainers from all walks of life. It was noted that Obama even got to play with the legendary Tiger Woods.
As far as athletes go, Obama played several rounds with Stephen Curry, Ray Allen, and Alonzo Mourning. Other big name entertainers that he has accommodated has been Larry David.
Post-Presidency Golf
Of course, Obama left office a few years ago. So, since then, has the former Commander-in-Chief kept up with the game? Well, since he left office, people have not kept track of his rounds all that well. So, information about this is scarce on the ground.
Still, it appears that the former president does make routine visits to Martha's Vineyard to hit the green every now and then. With rumors flying around that the ex-First Couple that might buy property in the area, he may increase his playing time as well.
There are also others that are trying to keep Obama's interest in the game live and well. NBA superstar Stephen Curry is trying to rally the president to play golf with the newly reinstated program at Howard University. Thus, the former POTUS may be back in the limelight with his swing.
These are the top things to know about then President Obama's golf game, including how many times he played during his presidency. It is certainly interesting to see how he kept his golfing passion alive and well, even when tackling one of the most demanding jobs in the world. Not to mention, it is a fun peek into what his golfing game and routine looked like as arguably the most powerful man in the world.